M.Ro organizes for B2B meeting, investment scouting, logistic partnering and communication support to reach out investors, business stakeholders, local strategic partners.
Utah has a young e dynamic economy, tax rate is well below western neighbors Arizona, Idaho and New Mexico.
Event Manager: Avv.to Carola Latini (info@mro-innovation.com) T.+39.06.70494650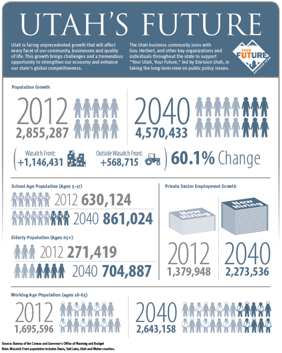 "Italy@Utah"
BusinessTime
Salt Lake City,April 11 – 15, 2015
This visit is led by M.Ro and hosted by the Utah European Chamber
and the office of the Honoray Vice-Consul of Italy, Mike Homer
NEW YORK, NY, 3.12.2011 | One of the world's most prestigious financial publications has named Utah the Best State For Business for the second consecutive year. Forbes debuted its ranking with Utah atop the charts on November 22.
"Utah highlights include energy costs 31% below the national average and employment growth that has averaged 0.6% the past five years. Compare that to the U.S. as a whole where job growth has averaged negative 0.6% since 2005. Utah's 5% corporate tax rate is well below western neighbors Arizona, Idaho and New Mexico. Utah ranks sixth in a new Tax Foundation study that looks at the tax burden on business in each state across different industries. As part of the ranking, we included the study, which will be released to the public in the coming months."
Forbes notes that momentum is building in Utah and rankings, like this one, attract businesses across the spectrum and from around the country.
"Companies are also attracted by Utah's population growth which is one of the fastest in the country and provides a burgeoning workforce. "Utah has a young, dynamic economy with a vibrant high-tech sector," says Mark Zandi, chief economist of Moody's Analytics.
You can read the full article on Forbes.com